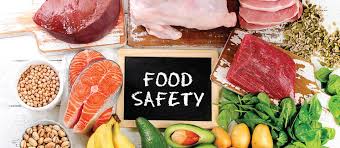 August 10, 2019
Make your customers more trustable by FSSAI registration
In this blog, we have discussed about the importance of food safety license and how FSSAI registration builds trust among the customers.
Chiefly, FSSAI stands for Food Safety and Standards Authority of India. It mainly issued by the government of India to build trust among the customers. Every individual or Food business operator who is connected to manufacturing, storage, transportation or distribution of food product must compulsorily obtain FSSAI registration or license.
In India, the registration or licensing related to the food business is governed by the Food Safety and Standards Regulations 2011. Whether you have to obtain FSSAI registration or FSSAI License it completely depends upon the size and nature of your business.
customers opinion on Food Business Licensing and Registration under FSSAI
According to the survey by Red seer, by 2021, the food sector in India is expected to touch at least $2.5 billion from its current size of about $700 million. This means almost 4 times as many people are going to ordering their food through online in just 3 years.
But be alert, with the tremendous growth in the opportunity, the regulators are watching ever more closely to look for food safety violations.
Food Safety and Standards Authority of India (FSSAI)
In fact, FSSAI was provided under the Food Safety and Standards Act, 2006. Which, includes various acts, and orders that have until now handled food-related issues in many Ministries and Departments. It has been created for laying down the science-based standard for items of food. And also, to manage their production, storage, delivery, sale and import to ensure the presence of safe and healthful food for human intake.
In short, it is the firm under the control of the government of India and the ministry of health and family affair. Food Safety and Standards Authority of India (FSSAI) does not provide certification to its customers. But, a license or registration which is a necessary requirement for all Food Business Operators (FBOs) in India.
Advantages of FSSAI registration:

FSSAI License issues single point access to all the laws and departmental controls
FSSAI License builds confidence to customers regarding quality, quantity and also the hygiene of food
A single food license is sufficient for different establishments of same business in the same local area
Simultaneously, FSSAI License and Food License works for the set standards for food quality. It is an initiative taken by the government to ensure good quality food for customers to avoid the problems related to adulteration and inferior qualities served.
The main responsibility of FSSAI department is to make sure that all the food-related laws are being followed by the food business operators and other customers. Under those common procedure defined for obtaining food license. Food business operator can apply for the FSSAI registration according to their food business type and turnover.
Moreover, a person involved in food business is known as a food business operator. Before starting a food business in India every food operator has to obtain food license before starting their business.
Who is required to have FSSAI license?
– Hotels
– Restaurants
– Delivery hotel, restaurants or kitchens on Swiggy, Zomato Order, Uber Eats
– Food Chains
– Packaged Food Manufacturer
– Food sellers and resellers
– Food Importers and Exporters
– Raw Material Suppliers to Food Businesses
– Canteens running in Corporate Companies, Schools, Colleges, Hospitals, Government Institutions.
Criteria for deciding the type of registration (Central Licence/ State License/ Basic Registration)
There are two criteria for deciding which type of registration is applicable on your business.
Turnover based registration – Depending upon the turnover of the business, the department set limits for applicability of certain registration i.e. central, state or basic FSSAI registration.
Specific registration– In certain businesses, the department specifies particular registration irrespective of their turnover.
Office in more than one state – If there are more than one operational unit, which we have to apply an extra central license for the head office and other relevant license for other branch offices.
Types of FSSAI Registration
Central License
In fact, the food business operators such as the large manufactures, operators in the central government agencies, importers, exporters, apart from turn over, they are required to obtain Central food license.
State License
Moreover, food business operators like marketers, small to medium sized manufacturers, storage units, transporters, retailers, etc. are however required to obtain the FSSAI State License issued by the State Government. State government allows food operations in only 1 state. It is mostly for the units having an annual turnover of more than 12 lakh.
Basic Registration
Simultaneously, the Food business operators like retailers, marketers, small-sized manufacturers, storage units, distributors, transporters and petty food. This type of Registration are mainly required if the turnover not exceeding 12 lakh per annum. The business earns a good among customers through licensing.
Street Vendors or Mobile Food Vendors
Mobile Vendors are defined under Section 2(1) (n) of the Street Vendors for the Protection of Livelihood and Regulation of Street Vending under the "Street Vendors Act", 2014. The self-contained food service operation, located in a readily movable motorized wheeled or towed vehicle, used to store, prepare, display or serve food intended for individual portion service.
Specifically, all Mobile Food vendors, Hawkers are required to take "basic registration" irrespective of their turnover. Apart from FSSAI registration, Mobile Food vendors are requested to take NOC from local authority to run the business. The license built more trust among customers.
What happens if you do not apply for an FSSAI License?
The immediate consequence will be deregistration of your business from any food business platform you have listed on.
Secondly, if you own a food business of any sort or responsibility of that business, then you can be imprisoned for a period of 6 months and be made to pay a fine of up to Rs. 5 lakhs under the Section 31 of the Food Safety and Standards Act, 2006. Given the seriousness of the consequences, every food business is advised to get themselves registered on the food which is supplied, please make sure to mention your 14 digit registration number, particularly on packaged food.
FSSAI Registration and Licensing of a Grocery Store:
All the shop owner are requested to register their shop under 'The Shops and Establishment Act.
The act defines 'shops' as any premise where goods are sold, either by retail or wholesale and where the services are made to customers. This implies that a grocery store is covered within this definition.
The shop owner must submit an application along with the required legal fee to the Inspector of the local area within the prescribed time.
Application form can submitted along with the prescribed fee, it may differ in States.
Consequently, the FSSAI application consists of the owner name, shop address, number of employees and other details. FSSAI license will issued only on the consent of the chief commissioner
The shop owner can prominently display the FSSAI certificate at his shop and ensure periodic review of the certificate.
The shop owner can make alteration to the certificate by notifying the inspector within 15 days of the occurring of the change.
The relation between the inspector and shop owner doesn't end with the establishment of the shop and its registration. The owner should inform the inspector of the closing of the shop within a prescribed time to get the certificate cancelled.
The Indian Government, in order to ensure registration of shops in the country, has facilitated online registration.
Certain standards for the processing of license under FSSAI:
For the purpose of licensing, the owner of a grocery store is known as a Food Business Operator (FBO). The FBO needs to first realize the capacity of the shop/food business, in order to apply for a specific category of license. The amount of turnover is the biggest determiner of the kind of license granted to an FBO by FSSAI.
However, if a food business has its branch in more than one state, then it has to obtain a 'central license' for its head office. If annual turnover of Food business crosses Rs. 20 Crores then, we have to obtain central license.
Moreover, if a food business has an annual turnover of Rs. 12-20 Crores, then it must obtain state license. The license once obtained under FSSAI will be valid for 5 years, after which renewal is mandatory.
However, one category of FBOs have been exempted from this obligation and that is 'petty food manufacturers', who have an annual turnover less than 12 Lakhs.
Petty food manufacturers are small-scale manufacturers with a capacity of less than 100 kg of production in a day or temporary vendors. They are required to register themselves by filling Form A under Schedule II of FSSAI and not obtain a license.
An FBO may obtain a central license by applying on http://www.fssai.gov.in and sending a copy of the required documents and prescribed legal fee to the Central Licensing officer within 15 days of filing application.
Form B in the Scheduled 2 is to be filled to obtain a state license and submitted to the nearest designated officer along with required documents and the prescribed fee.
Step involved in obtaining FSSAI License:
Step 1 – consulting, documentation & filing
Fill the online application.
Get consultation from the experts on the type of license needed
Customers should provide the necessary documents
Double check the paper works
Form A and Form B are usually generated for the actual license process.
File it with the concerned authorities.
Step 2 – follow up and waiting for approval
After the CS or CA has filed the application, resolve the questions asked by the authorities
Follow-up the food department for further process.
Then there will be a 20-day wait period during which the government considers your application.
Step 3 – delivery of license
Once approved, a digital and paper copy of the license is sent to you on the given address.
The obtaining of the license takes a maximum of 30 days.
The waiting period mentioned here is for basic license. For the other two licenses, the government approval can take a maximum of 50 days.
Documents for the registration of License-
For Company:
1) Board Resolution authorizing Director / KMP to sign and execute the application form of FSSAI License
2) PAN of the Company (self-attested)
3) Certificate of Incorporation (self-attested)
4) Article and Memorandum (self-attested)
5) Nomination form in Form IX
6) Category List of products (In form B)
7) Authority Letter.
8) Rent Agreement
9) Electricity Bill / telephone bill
10) NOC from the landlord
11) Layout of the premises (demark only the premises of the Company, if it is shared service provided)
12) Photos of the Authorized Person along with the name board of the Company displayed in the premises
Directors and Authorized Person:
1) PAN copy
2) Address Proof
3) Passport size photographs
4) List of Directors and Authorized person along with their signature (Residential Address, PAN and Mobile Number is mandatory)
Renewal of Registration
FSSAI License or Registration can be applied maximum for 5 years. The application can renewed two months prior to the date of expiration by paying the FSSAI Fee. In case of failure to get renew on time, we have to apply for license freshly or pay penalty.
Conclusion:
We Smart Corp in Tirupur helps you to obtain FSSAI license in 24 hours, 100% secured portal. Consult Executive. Fill the online form now and get acknowledgement in 24 hours, Secure Online Payment. All India Service. Free Expert Counselling, Free Customers support. Free Consultation. Services: Best Customer Support, Instant certificate. Hurry up!!